Our company has in development two deposits with sodium and calcium bentonite with a high content of the main active mineral montmorillonite – from 70 to 90%.
Bentonite is a natural mineral derived from fossil volcanic rocks. Bentonite is hydroaluminosilicate, which has the property to swell 14-20 times.
The average PH of bentonite deposits our company is 7-8 units. If necessary, PH can be brought up during the activation process to 11 units.
Bentonite of our company is high quality grinding. For food, medical and cosmetological applications we produce fine and ultrafine milling bentonite.
Our company supplies various types of bentonites for the entire spectrum of the industry in the following types of packages: big-bag 1 ton, paper bag 25 kg, individual packages on request (variable from 100 grams to 5 kilograms).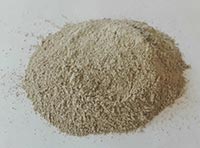 Bentonite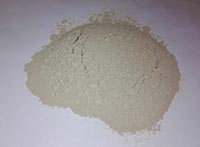 Bentonite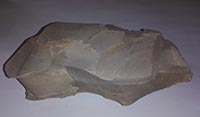 Bentonite
Certificates And Documents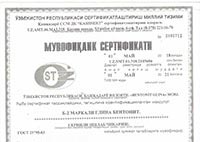 Certificate of conformity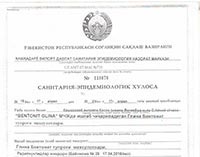 Sanitary conclusion
Bentonite Application
The bentonites, mined and processed by us, have a wide range of applications in various industries. Here we list only the main ones:
In the food industry, bentonite is used as an anti-caking agent E558, which is completely harmless and approved for use, unlike potassium ferrocyanide (E536), which is banned in many countries.
Bentonite is used for the preparation of drilling mud. Basically, it is sodium bentonite or sodium-calcium bentonite after activation with soda, as a result of which the degree of its swelling increases significantly.
Calcium bentonite, with a neutral pH of 7-7.5 units, is used throughout the world in cosmetology for highly effective anti-aging masks and is used as an effective remedy for acne. Especially note that many companies do not make the separation of cosmetic bentonites in sodium or calcium type. As a result, sodium bentonite with a PH of more than 8 units not only does not benefit, but also causes harm, irritating the skin and leading to dermatitis.
In medical industry, bentonite is universally and effectively used as a filler and a binder of medicines, as a dosage form of SMEKTA (diosmectite, dioctahedral smectite), as a baby powder, as an absorbent and wound healing agent, as a filler for creams and ointments.
Calcium-sodium bentonite is also used for the refining and clarification of edible mineral oils, as well as for the clarification of industrial mineral and waste oils.
Bentonites are used for clarification of wines, vinegar or fruit juices.
Bentonite is an effective toxin absorber in animal feed, it is an ideal feed additive.
Bentonite is traditionally used in washing powders as a softener in the form of colored granules.
Bentonites are used in the paper industry for the production of high-quality paper, increasing its smoothness and density. In addition, bentonite in the production of paper binds heavy metals and removes impurities.
Bentonite is used for cleaning and conditioning industrial wastewater.
For more than 40 years, bentonite granules have been used as highly efficient absorbers of moisture and odors, which allows it to be used for cat litter.
Bentonite is effectively used in the construction and sealing of fire barriers.
Bentonite is used for sealing buildings, foundations, cementing landfills, hydraulic structures.
Bentonite is used in metallurgy for foundry molds.
Bentonite is used as an effective filler for paints and adhesives, synthetic materials and rubber products.